---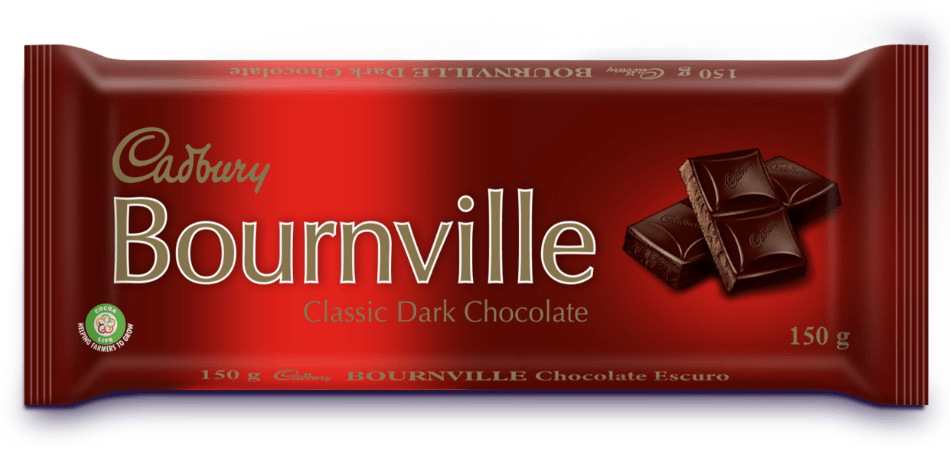 DID YOU KNOW?
Cadbury's Bournville chocolate is crafted with the best quality ingredients; creating an intense, distinctive taste.  
PRODUCT INFORMATION
Classic Bournville chocolate brings out the intense flavour of cocoa, delicately balanced with subtle creamy undertones to create an indulgent, dark chocolate taste sensation.  
INGREDIENTS
Sugar, Cocoa Mass, Cocoa Butter, Vegetable Fats [Palm Fruit, Sunflower Seed, Shea Nut, Illipe Seed, Sal Seed (Soya) (Citric Acid)], Emulsifiers (E442, E476, Soya-E322), Flavouring, Milk Protein. 
Dark Chocolate: Cocoa solids 39% min. 
Contains: Cow's Milk, Soya  
May Contain: Wheat (Gluten), Tree Nuts 

NUTRITIONAL INFORMATION
Energy
878 kJ / 40 g
2195 kJ / 100 g
Protein
1.4 g / 40 g
3.6 g / 100 g
Carbohydrate
23.6 g / 40 g
59 g / 100 g
Sugar
22.6 g / 40 g
56.5 g / 100 g
Sodium
1 mg / 40 g
3 mg / 100 g
Fibre
2.1 g / 40 g
5.2 g / 100 g
Saturated Fat
7.0 g / 40 g
17.5 g / 100 g
Fat
11.6 g / 40 g
29 g / 100 g