---
PRODUCT INFORMATION
This scrumptious treat combines crunchy biscuit pieces with creamy white confectionery – every bite a perfect escape to a dream world. 
INGREDIENTS
Sugar, Vegetable Fats [Palm Fruit, Sunflower Seed, Shea Nut, Illipe Seed, Sal Seed, Kokum Seed (Soya) (Citric Acid)], Biscuit (12%) [Wheat Flour (Gluten), Sugar, Vegetable Fat (Palm Fruit), Coconut, Invert Syrup, Skimmed Milk Powder, Cocoa Powder, Salt, Raising Agents (E500, E503), Flavouring], Full Cream Milk Powder, Whey Powder (Cow's Milk), Whey Permeate (Cow's Milk), Skimmed Milk Powder, Emulsifiers (E442, E476, E322- Soya), Flavourings. 
Contains: Cow's Milk, Soya  
May Contain: Wheat (Gluten), Tree Nuts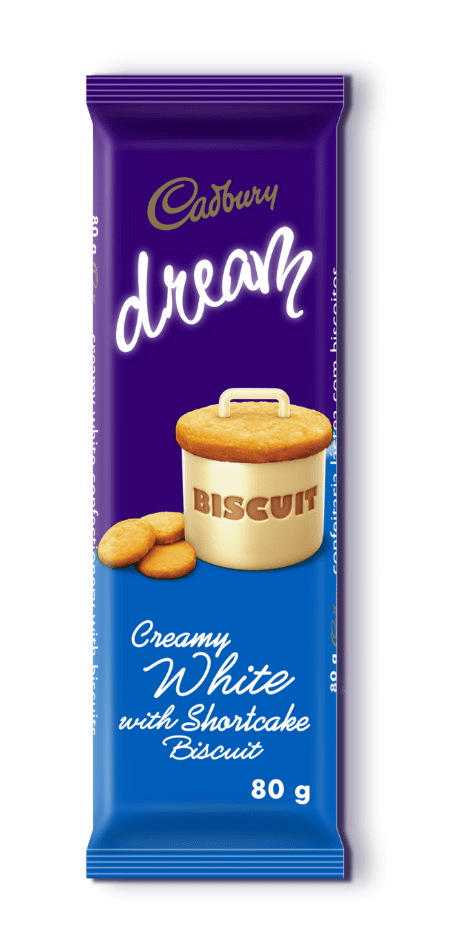 DID YOU KNOW?
Cadbury Dream white confectionery is made from the best quality milk ingredients, cramming goodness into every bar.  
NUTRITIONAL INFORMATION
Energy
896 kJ / 40 g
2240 kJ / 100 g
Protein
2.3 g / 40 g
5.8 g / 100 g
Carbohydrate
24.2 g / 40 g
60.5 g / 100 g
Sugar
22 g / 40 g
55 g / 100 g
Sodium
65 mg / 40 g
163 mg / 100 g
Fibre
0.2 g / 40 g
0.5 g / 100 g
Saturated Fat
7.0 g / 40 g
17.5 g / 100 g
Fat
12 g / 40 g
30 g / 100 g