1824 - John Cadbury opened Bull Street shop
In 1824, our founder, John Cadbury, opened a grocery store at 93 Bull Street, Birmingham, UK. Here, among other things, he sold cocoa and drinking chocolate.
1824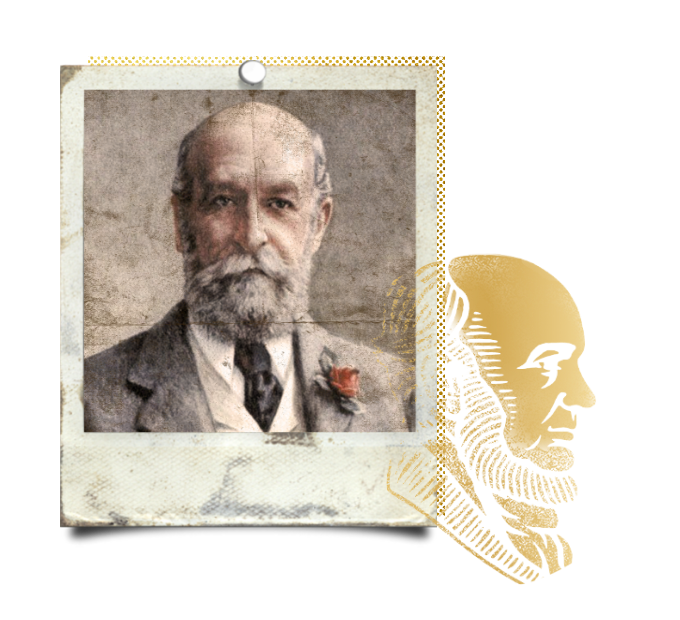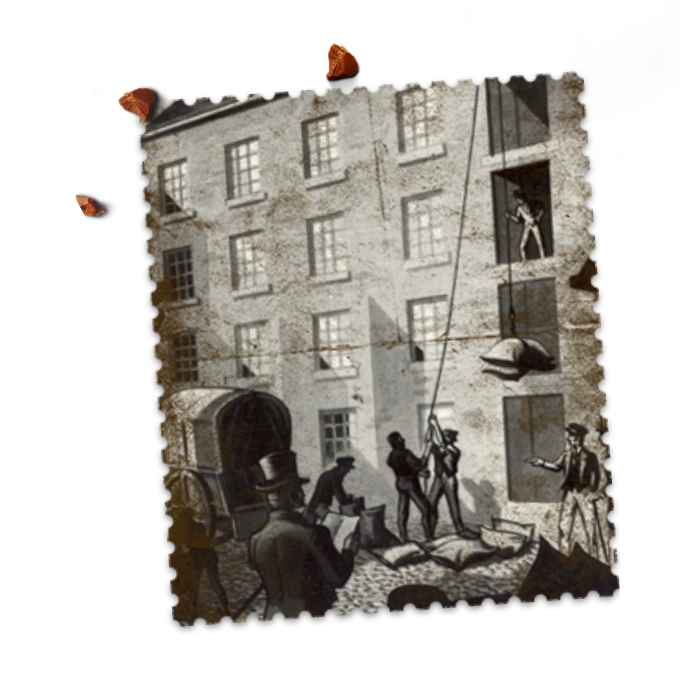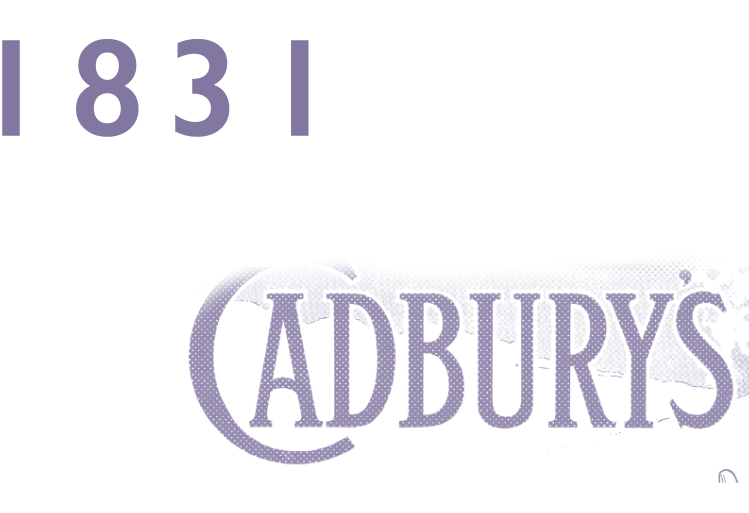 1831
1831 - John Cadbury opens factory in Crooked Lane
The Cadbury manufacturing business started in 1831 when John Cadbury decided to start producing on a commercial scale and bought a warehouse in nearby Crooked Lane, Birmingham, UK.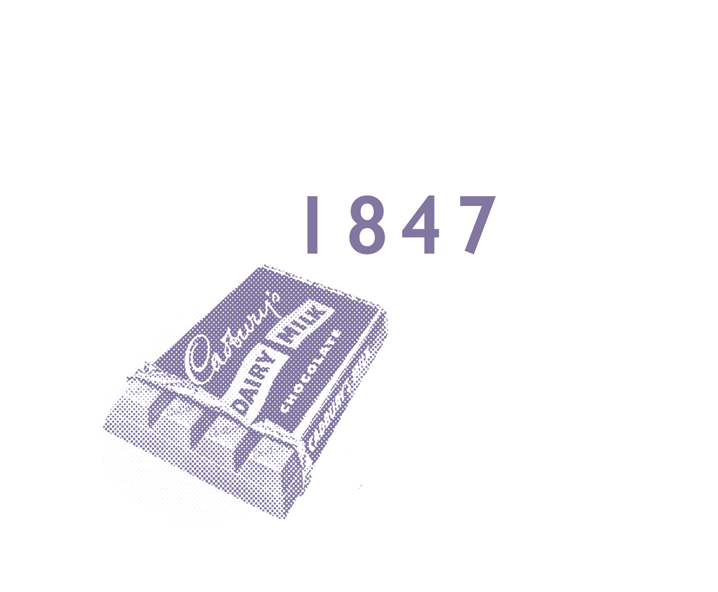 1847 - Fry's produce the first chocolate bar
British company Fry and Son made a chocolate called 'Chocolat Délicieux à Manger' in 1847. This was the first chocolate bar as we know it today, made from a mixture of cocoa powder and sugar with a little melted cocoa butter.
1847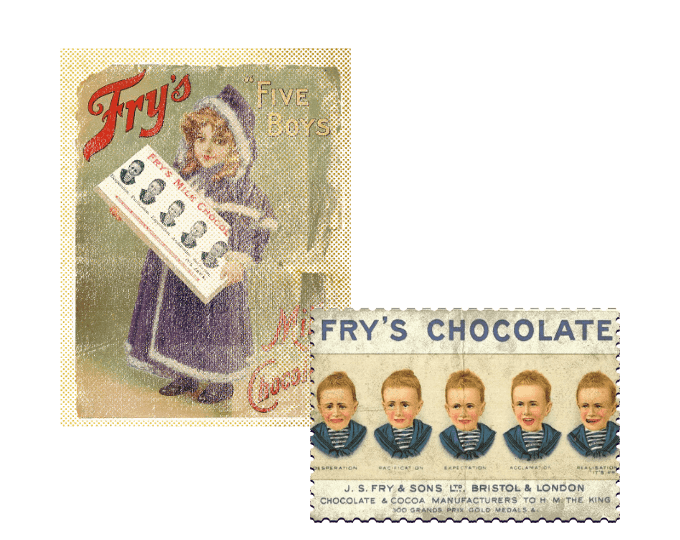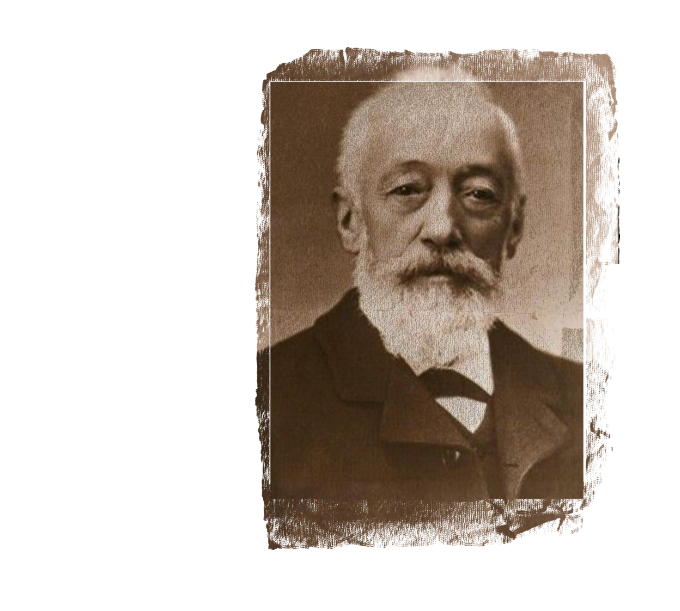 1875
1875 - First milk chocolate bar
In 1875, Swiss manufacturer, Daniel Peter, added milk to his recipe to make the first milk chocolate bar. He also used condensed milk rather than powdered milk to produce a chocolate with a superior taste and texture.

1879 - 'Modern' chocolate
The chocolate we know and love today is thanks to a Swiss manufacturer's invention—the conching machine—which refined chocolate, giving it a smooth texture.
1879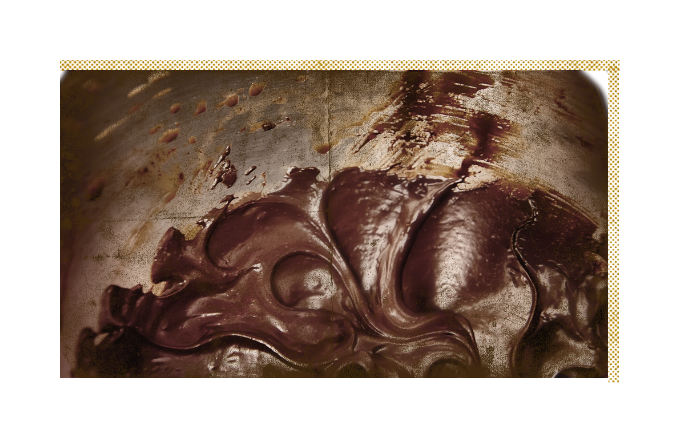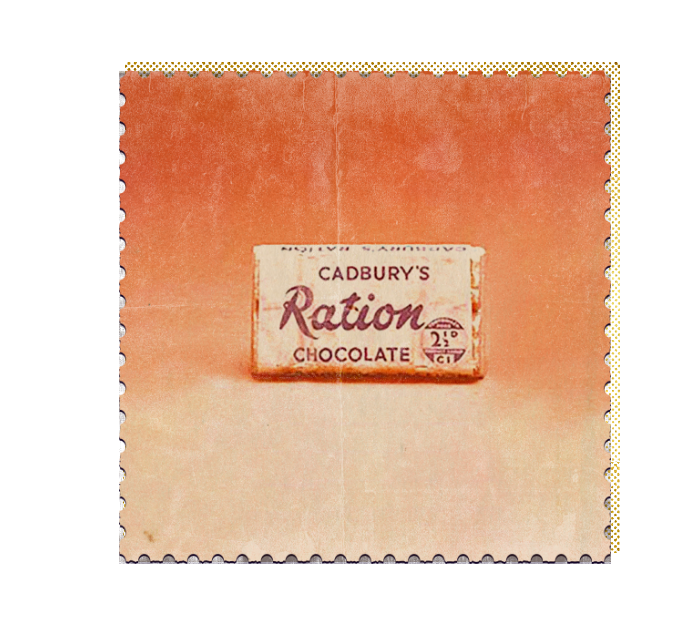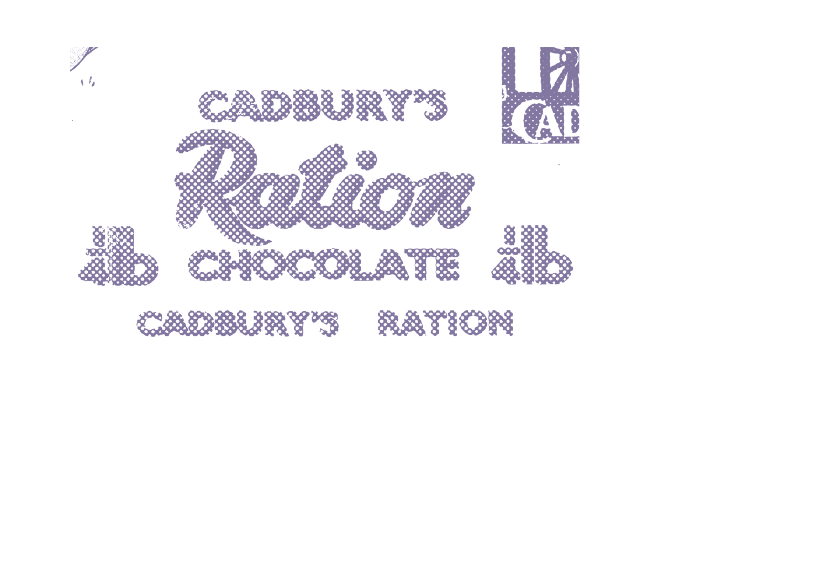 1897
1897 - Cadbury Milk Chocolate is launched
When Cadbury started making cocoa essence, there was a lot of cocoa butter left over, which was then used to make bars of chocolate.

1903 - Cadbury brings its famous Dairy Milk chocolate to South Africa
The Cadbury brothers - Richard and George - brought their chocolate brand to South Africa and appointed a sales agent to sell their products.
1903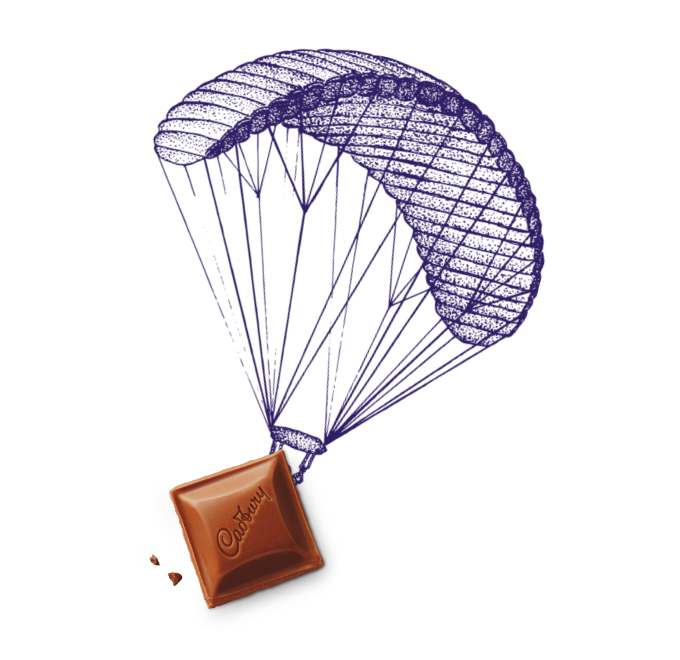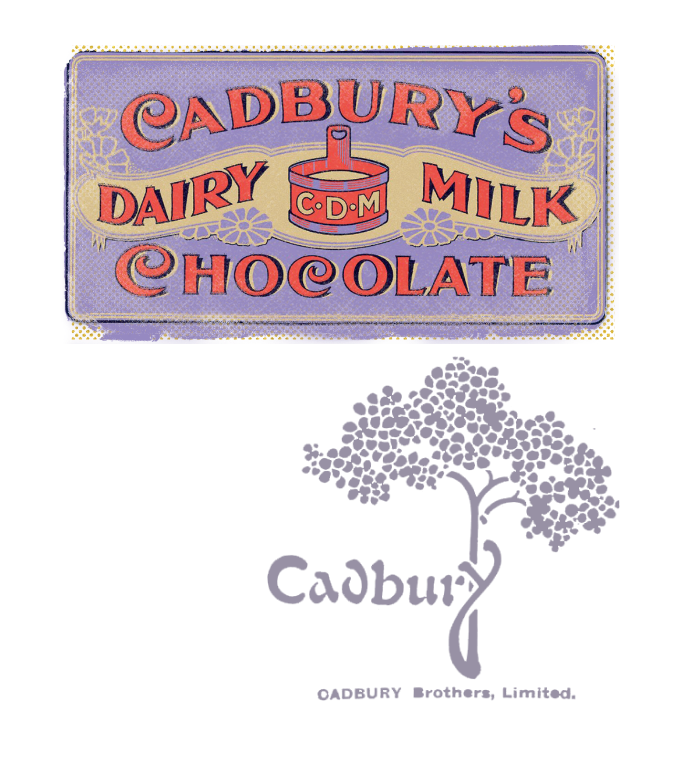 1905
1905 - Cadbury Dairy Milk is launched
In 1904, George Cadbury Jnr was given the challenge to develop a milk chocolate bar with more milk than anything else on the market. A customer's daughter in the UK suggested the name 'Dairy Milk', and Cadbury Dairy Milk was launched in June 1905.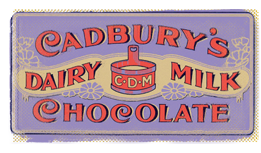 1905 - First Cadbury logo commissioned
The first Cadbury logo was designed by Georges Auriol, the same designer who created the iconic Paris Metro signage. The logo was an image of a stylised cocoa tree interwoven with the Cadbury name.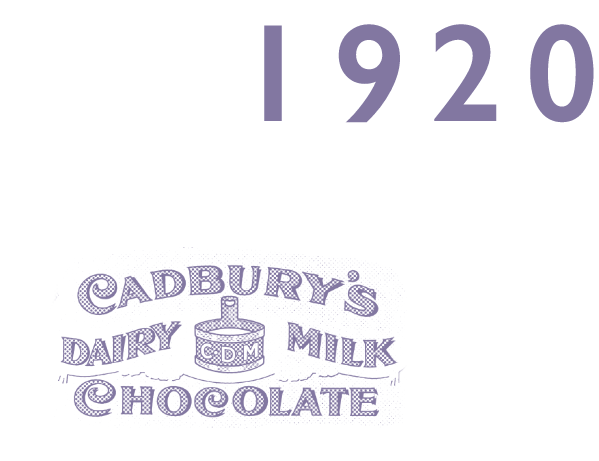 1920 - Cadbury Dairy Milk goes purple
At its launch in 1905, Cadbury Dairy Milk packaging was originally pale mauve with red script in a continental style 'parcel wrap'. The full Dairy Milk range became purple and gold in 1920.
1920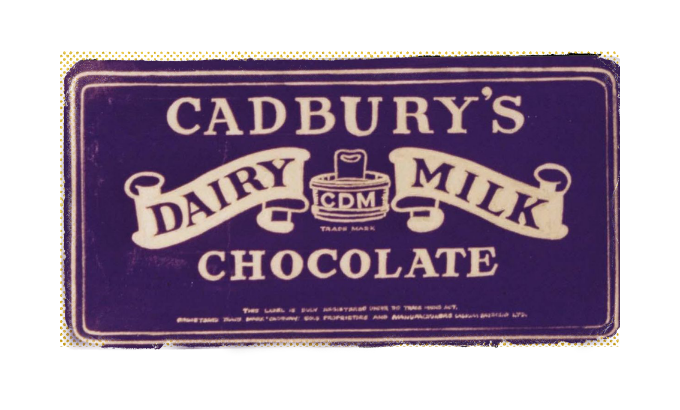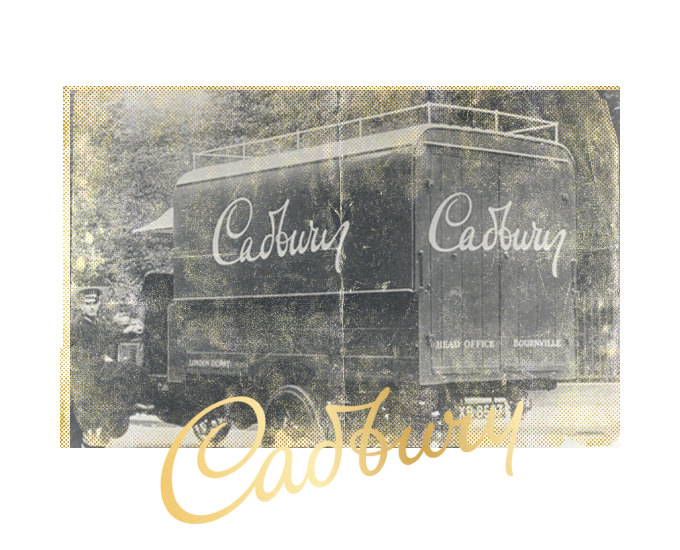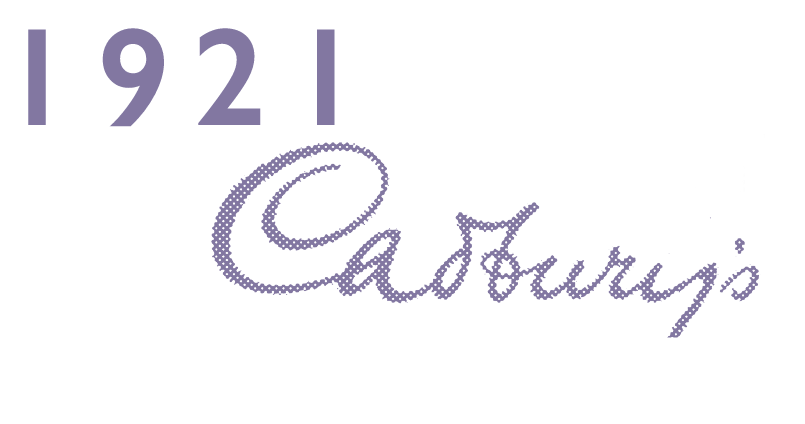 1921
1921 - Cadbury script logo first appears
The Cadbury script logo, based on the signature of William Cadbury, appeared first on the Cadbury company's transport fleet in 1921.

1926 - Cadbury gets going in South Africa
The South African arm of Cadbury was formed with the construction of the Port Elizabeth factory commencing in 1930. Today, the PE manufacturing plant is the heart of local business, employing a large number of the community.
1926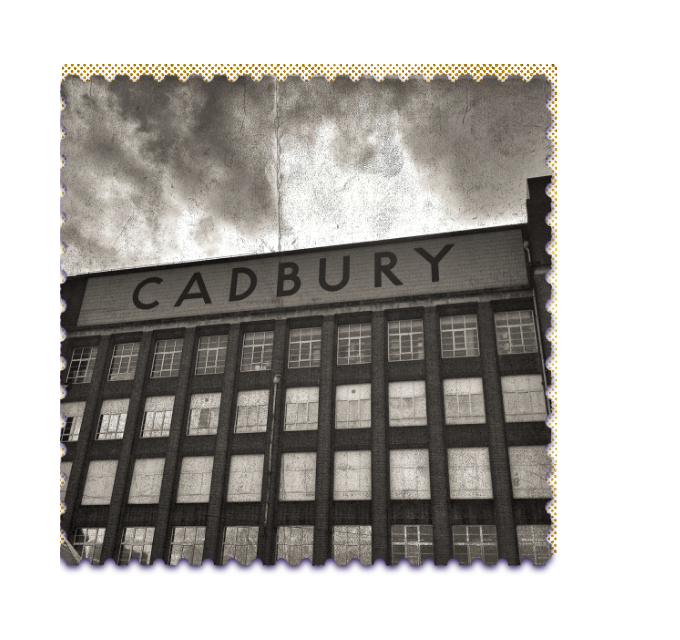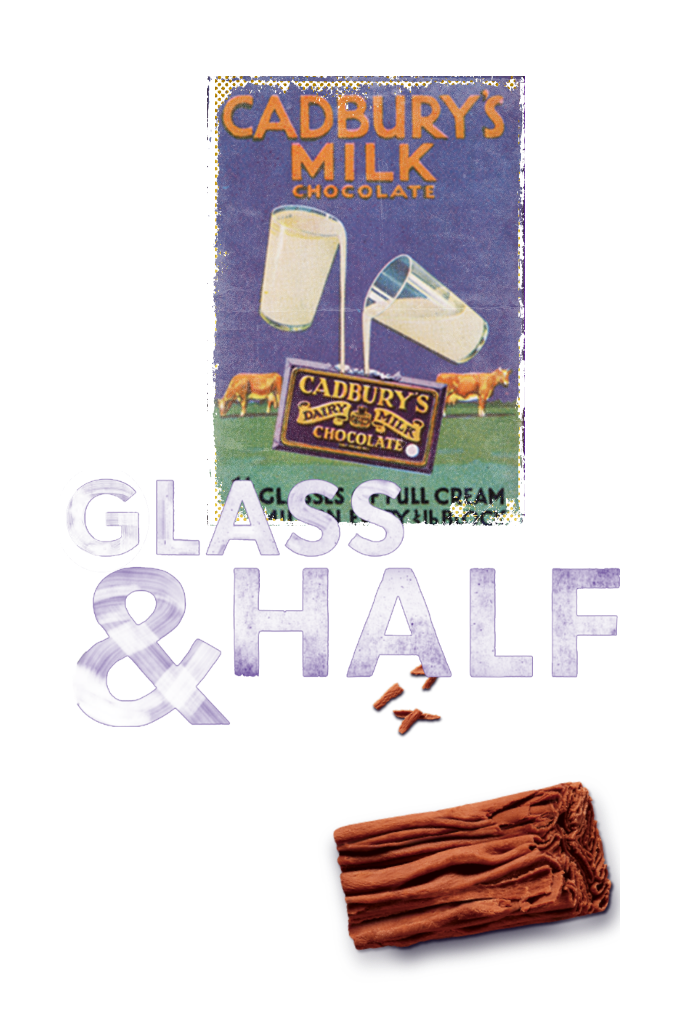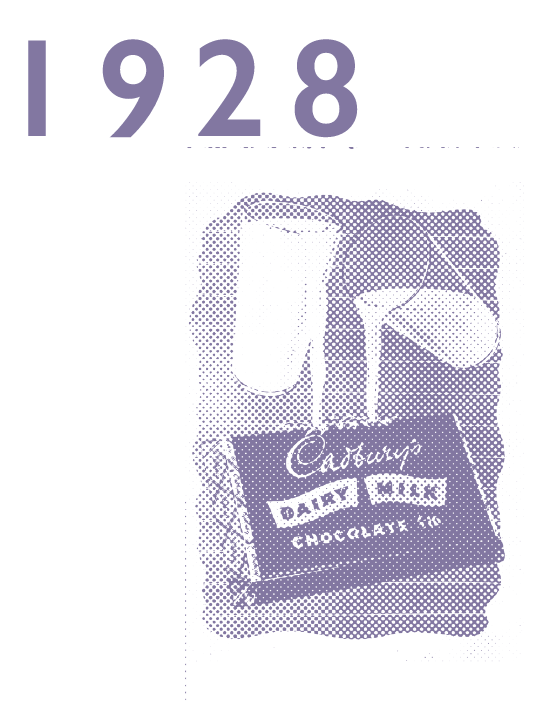 1928
1928 - The 'glass and a half' symbol is introduced
The 'glass and a half' symbol was originally used in 1928 in the press and on posters. Since then, it's been used in TV ads and on wrapper designs. Initially only used on Cadbury Dairy Milk, it's become one of the key brand icons.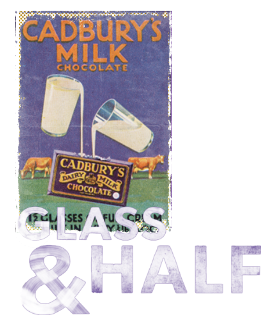 1928 - Investment in Cadbury Dairy Milk ads begins
In 1928 Cadbury started advertising its high milk content. A series of poster campaigns using the iconic 'glass and a half' measure of milk also launched at this time.
1928 - Flake is launched in South Africa
A Cadbury employee in the UK noticed that, when the excess from chocolate moulds was drained off, it fell in a stream and created a delicious, light, flaky, folded chocolate. Flake, the 'crumbliest flakiest chocolate' developed in the UK in 1920 - launched locally in 1928.

1938 - The original Cadbury factory is completed in Port Elizabeth, South Africa.
With the factory completed, the first moulded chocolate slabs started to roll off the production lines. The first chocolates produced where ½ lb, ¼ lb, and 2 oz Milk, Nut Milk, Milk Fruit, Nut Brazil, Fruit & Nut and Bournville.
1938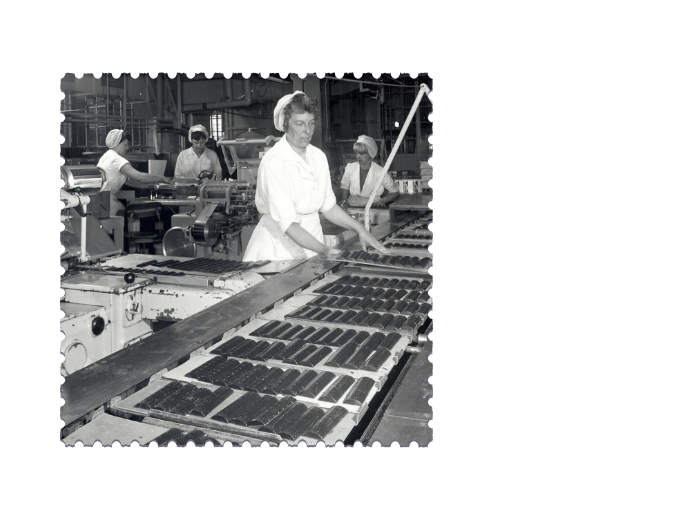 1950
1950 - The factory expands.
The factory expansion included a new laboratory and an engineer's office. At this time the factory also started producing the highly successful Flake chocolate, which would soon become one of South Africa's favourites.

1960 - Expansion continues.
The factory continued to grow throughout the 1960's, leading to improvements in productivity.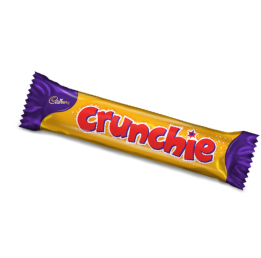 1960 - Crunchie is launched
Originally developed in the UK in the 1920's, Crunchie was launched in South Africa in 1960.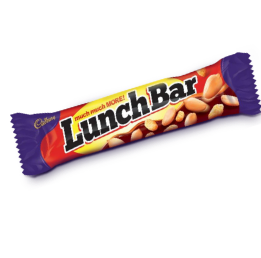 1960 - Lunch Bar is launched
A local favourite, Lunch Bar, was developed and launched as a fill-me-up sweet snack that offers MUCH, MUCH MORE! The iconic Lunch Bar 'Makhathini' TV ad was later launched in 1990.
1960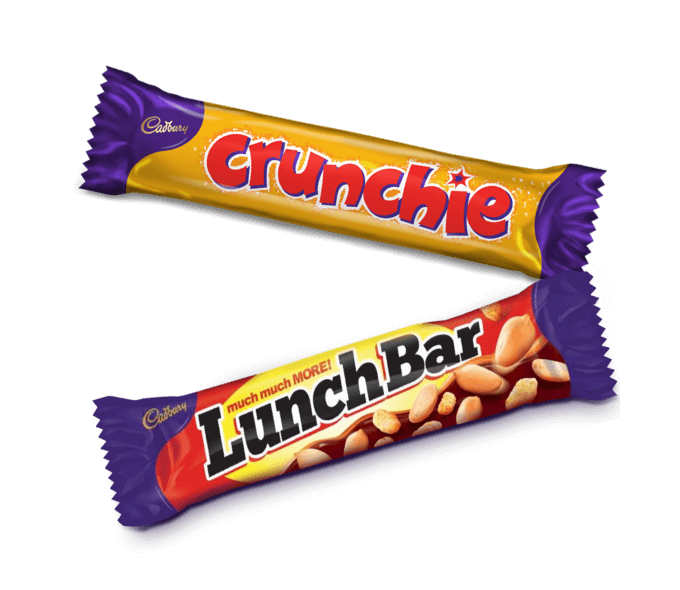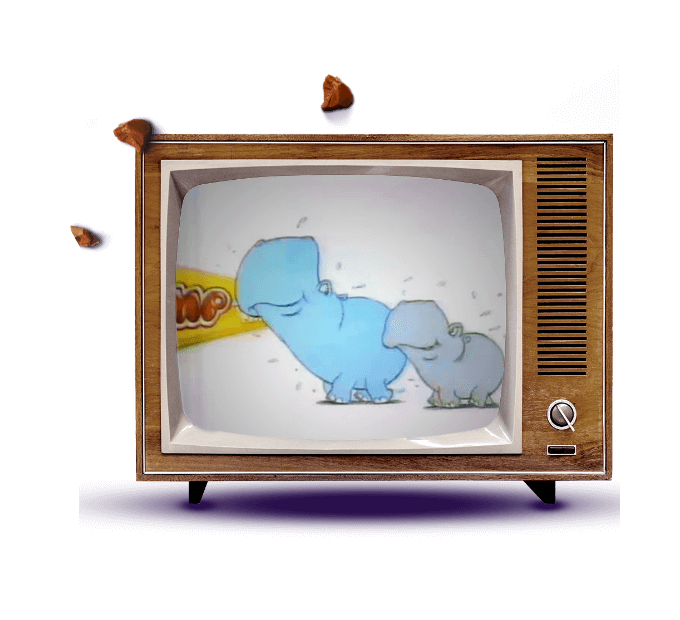 1970
1970 - Chomp is launched
Chomp, perhaps one of the most iconic local chocolates, was created in the early 1970's and remains one of South Africa's favourite snacks.

1980 - Innovation and Equality
In the 80's, limited access to international technology forced Cadbury to adopt a culture of pioneering innovation. At the same time, the embedded culture of equality at Cadbury meant that people of all races were able to secure first-line management positions, creating equal opportunity for all.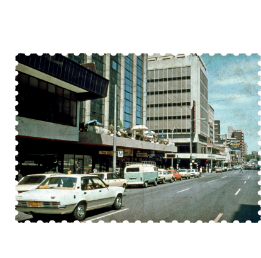 1980 - Snacker sets the trend
Leading the way in innovation, Cadbury launched Snacker in 1980 as one of South Africa's first mainstream cereal bars. This placed Cadbury way ahead of the health trends that followed.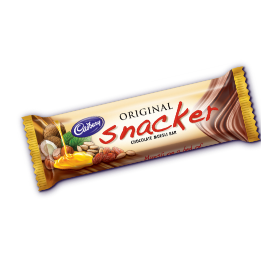 1980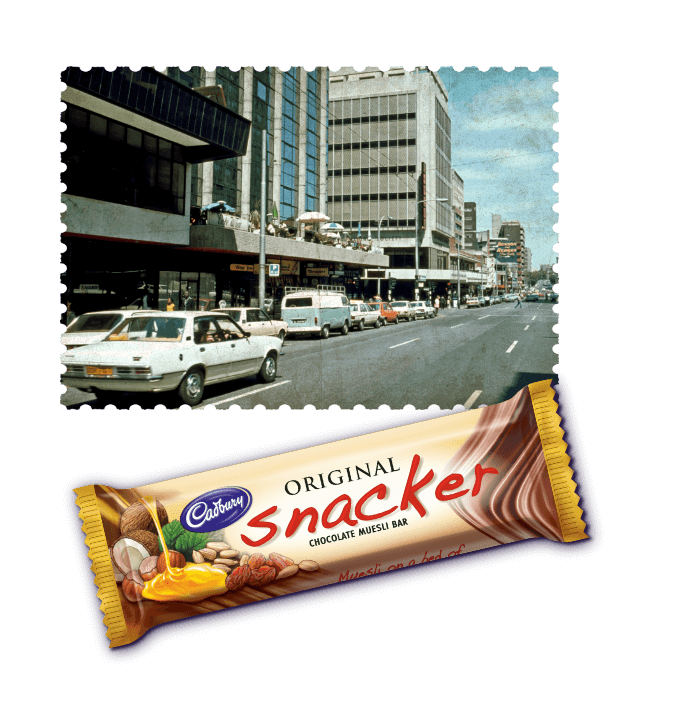 1983
1983 - Tempo is launched
Launched in 1983, Tempo is another uniquely South African favourite featuring an equally unique tagline: 'Tempo: you can feel it in your feet!'

1995 - Astros is launched
Astros was created to delight a new generation of South African consumers. It launched in 1995 and quickly joined the ranks of Cadbury's best loved brands.
1995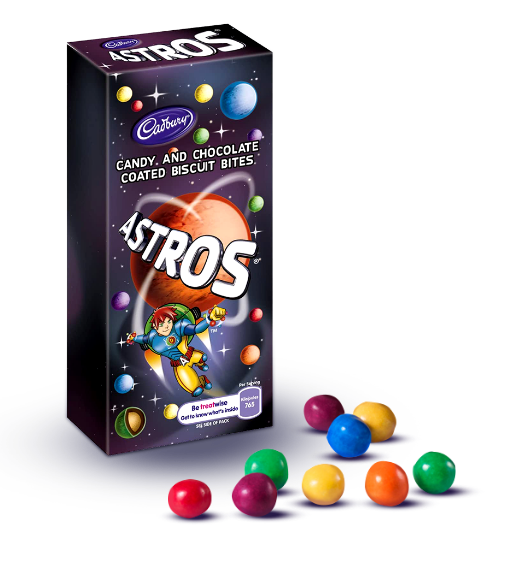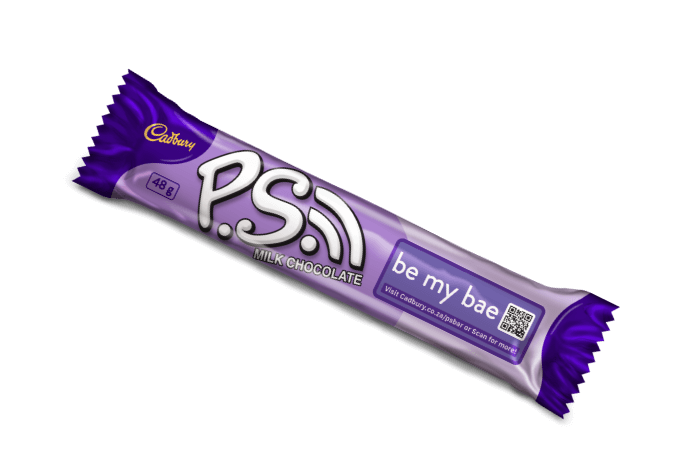 1997
1997 - Say it with P.S.
Cadbury P.S. was created and launched in South Africa as the first messaging bar. This allowed everyone to say more by sharing chocolate bars with heartfelt messages on the wrapper.
2005 - Tumbles is introduced
Tumbles was originally launched in a bright yellow pack and was soon relaunched in the iconic Cadbury purple.
2005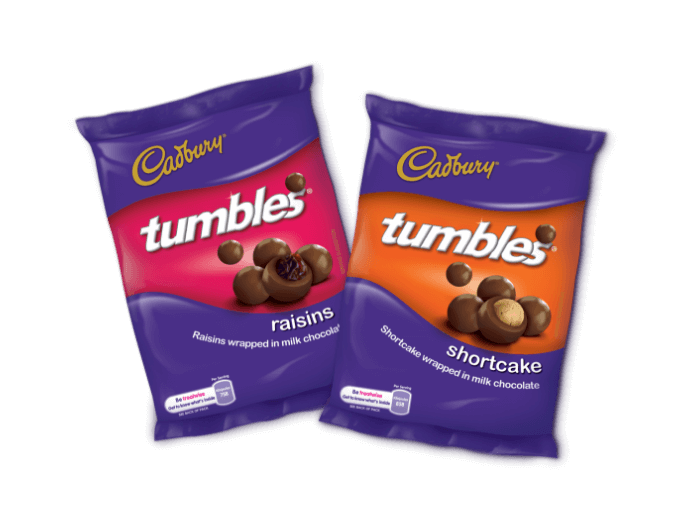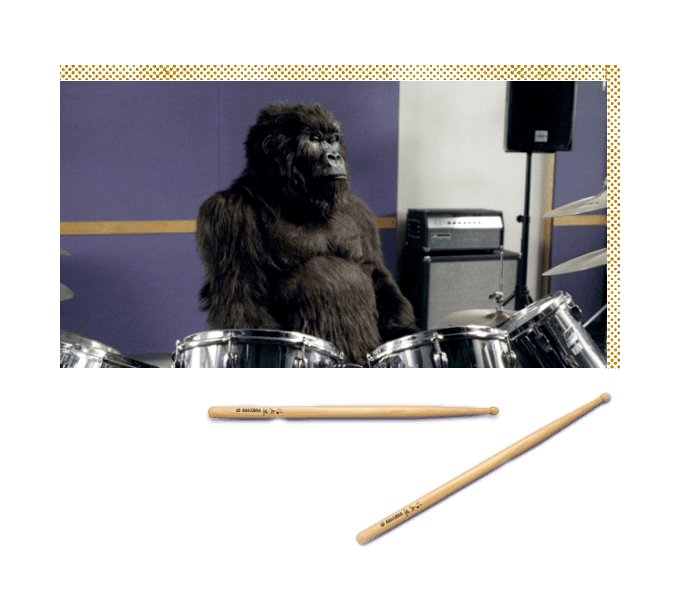 2010
2010 - The Cadbury Dairy Milk Gorilla advert premieres
Arguably the first ever viral TV ad, 'Gorilla' showed the iconic primate enthusiastically playing the drums along to the Phil Collins song 'In the Air Tonight'.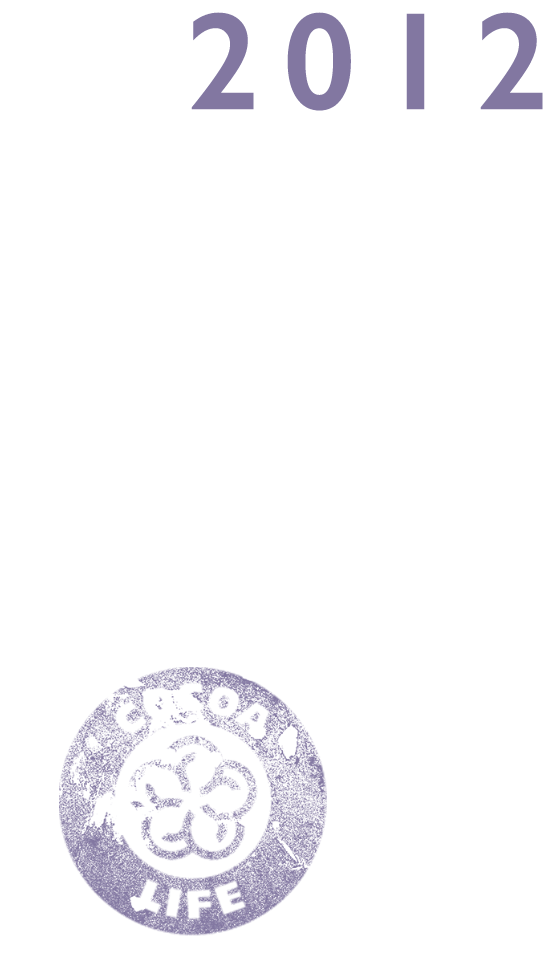 2012 - The Cadbury Dairy Milk Bubbly is launched
Floating cows and a burst of bubbles launched Cadbury Dairy Milk Bubbly in August 2012. The new aerated offering came in a unique mould shape with soft, melt in your mouth, round chocolate bubbles. This delivered a smoother, lighter and creamier taste.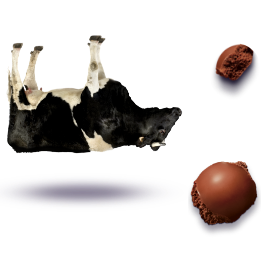 2012 Cocoa Life partners with cocoa communities
In 2012, Mondelēz International's global cocoa sustainability programme, Cocoa Life, committed to investing $400 million USD by 2022 to empower and support at least 200,000 cocoa farmers and reach one million community members. It was the beginning of a beautiful partnership, bringing extra goodness to every bite of Cadbury chocolate.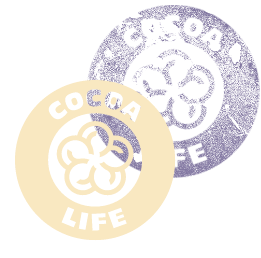 2012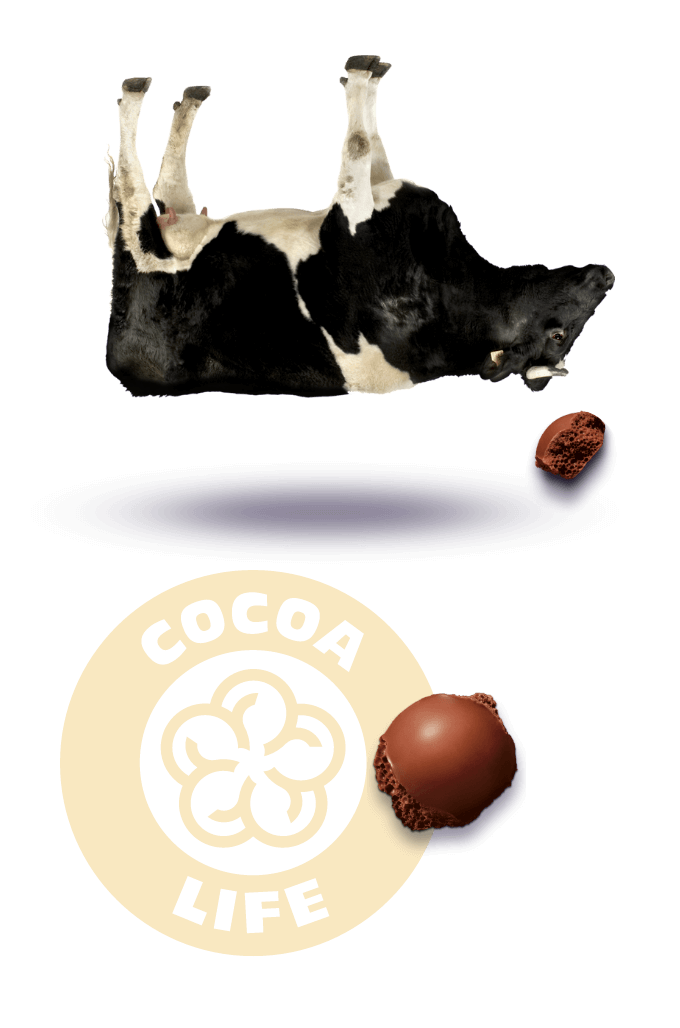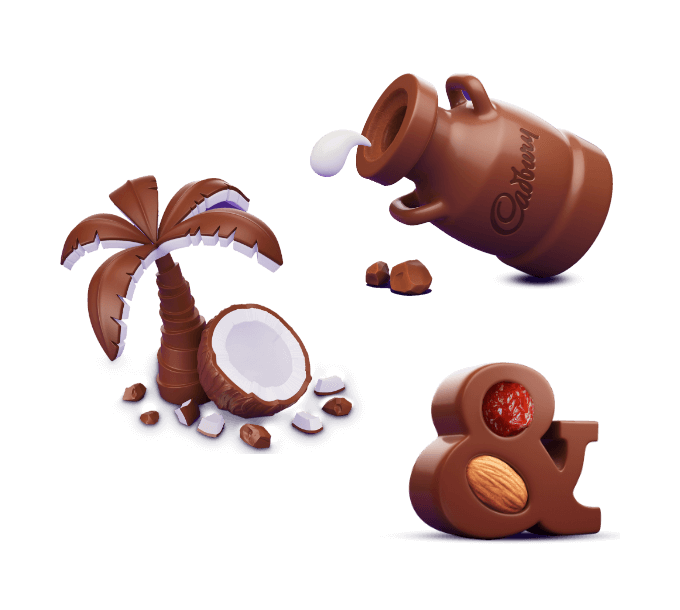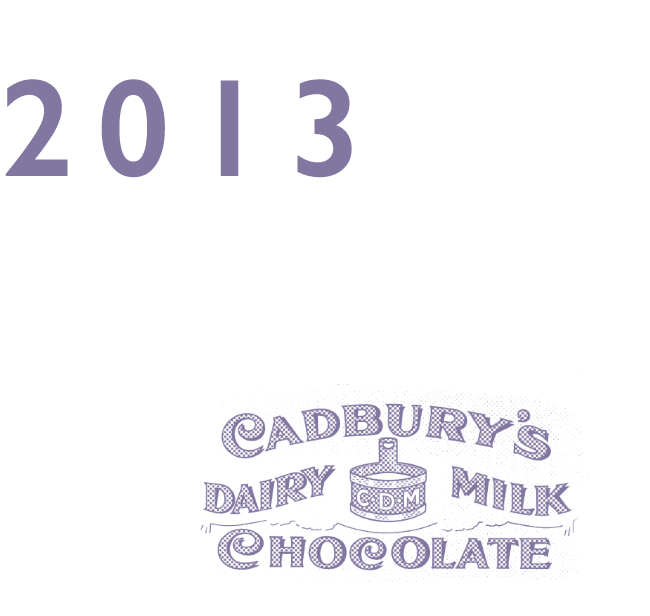 2013
2013 - The Cadbury Dairy Milk new look is launched
In June 2013, Cadbury Dairy Milk introduced its new packaging, helping drive the essence of Joy. New icons representing each flavour of the Cadbury Dairy Milk range come to life in a fresh and fun way.

2014 - Bundles of Joy
In 2014, a set of triplets in the womb sang and danced in unison, while their mother ate a Cadbury Dairy Milk slab. This TV ad showcased irrepressible Joy in a truly unique way. The public named the triplets with the most joyful names: Thabiso, Intokozo and Gcobani. Simultaneously, the Little Book of Joy, South Africa's first baby naming book was published as part of the campaign.
2014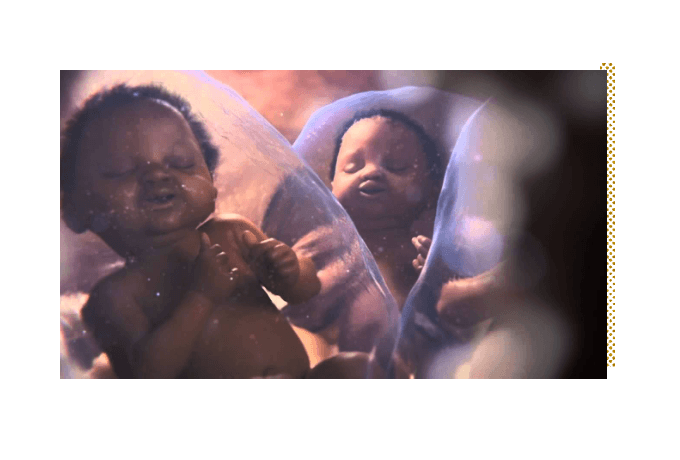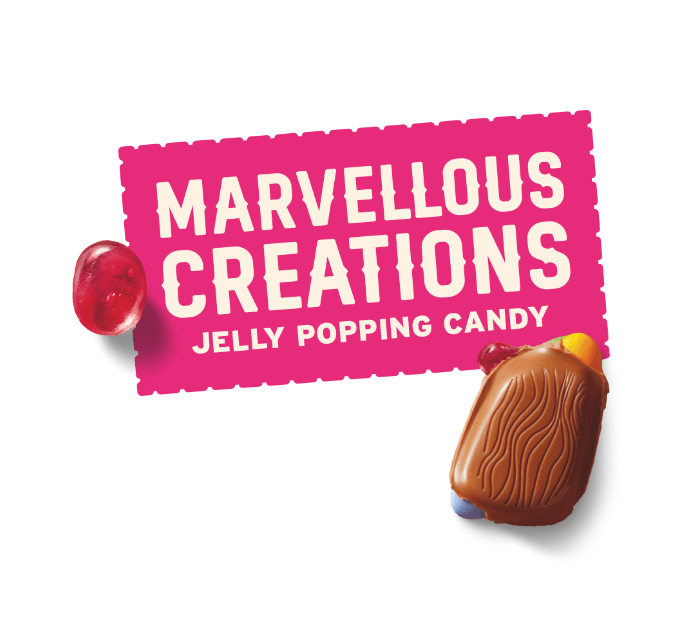 2015
2015 - Marvellous Creations is launched
Launched in 2015, Marvellous Creations broke the mould with its uniquely shaped blocks and out-of-the-ordinary ingredients. This became an ideal family sharing treat.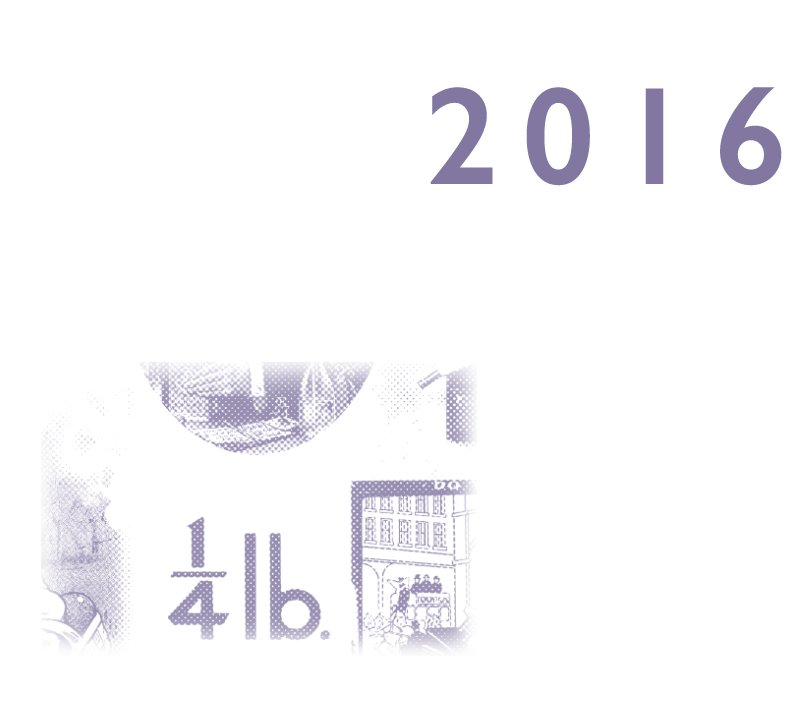 2016 - Cadbury 5Star arrives
5Star was revealed to thousands of music fans at a music concert in Ballito and shared a full-on chocolatey, caramelly, chewylicious taste experience. The unique craving that you get from this crunchy chocolate still inspires young South Africans to liberate their senses as they get lost in the taste.
2016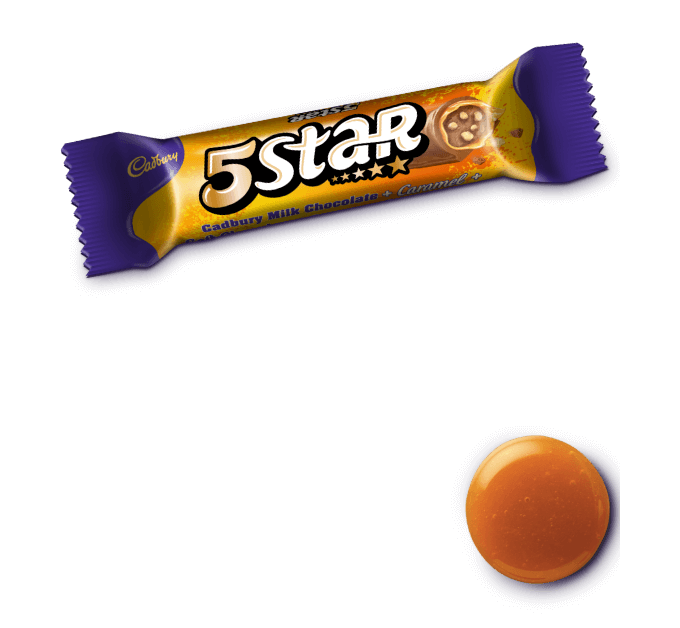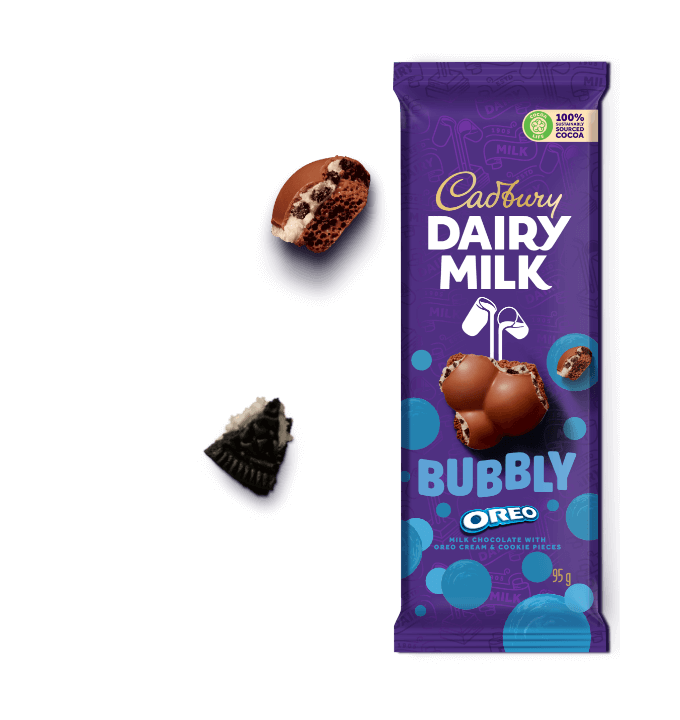 2017
2017 - Cadbury Bubbly becomes Wonderfilled
Cadbury Dairy Milk Bubbly and Oreo biscuits came together combining Joy and wonder in the most delicious way with the launch of the new Bubbly Oreo. Following on from this delicious innovation, Cadbury got its hands even deeper into the cookie jar to offer consumers Cadbury chocolate covered Oreo, Cadbury Breakaway and Cadbury Fingers.

2019 - Cadbury Dairy Milk inspires generosity in a nation
In 2019, Cadbury Dairy Milk shifted their focus from 'Joy' to 'Generosity.' Cadbury began its generosity journey with South Africans, collecting over 100 000 toys, books and games for the nation's orphaned and vulnerable children. 
2019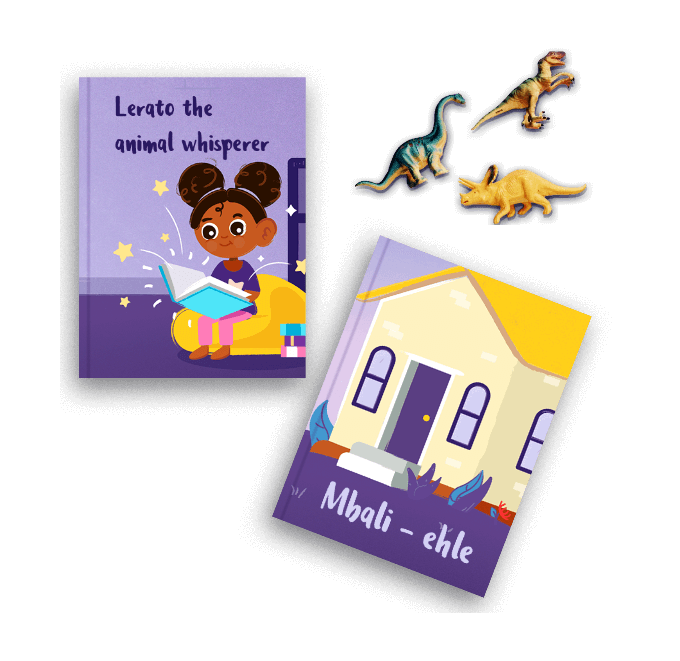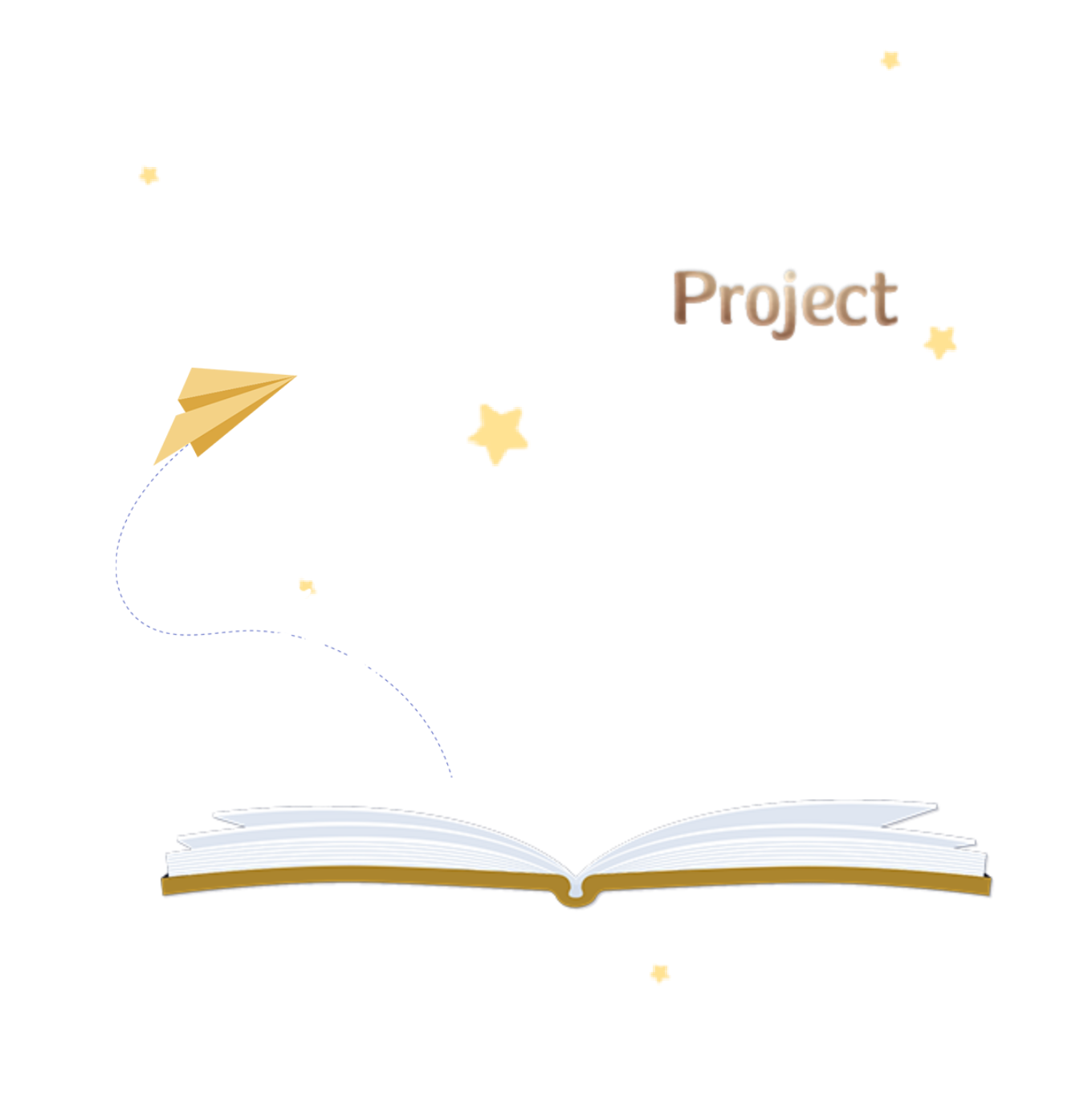 2020
2020 - The Glass and A Half Project is born
In 2020, Cadbury Dairy Milk once again partnered with the nation to bring some comfort and love to children who were most in need. By purchasing special-edition packs, South Africans helped contribute towards R1 million worth of educational toys, books and games. They also shared their original stories, which were turned into illustrated e-books for these precious children, reconnecting them with an outside world they were cut-off from.

P.S. Duo is launched
In 2021, the beloved P.S. range was made complete with the addition of a new, shareable bar. Two individual 30g bars in one pack meant that people could now share messages and chocolate, creating memorable moments and special connections.
2021